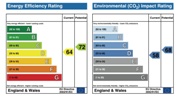 An Energy Performance Certificate (EPC) is the energy efficiency rating on your leasehold or freehold business and residential premises. This is usually required, as part of the seller's pack, in order to sell your business. For any clarification of any exemptions you are referred to your local Trading Standards Officer.
An EPC grades a building (A – G) to indicate how energy efficient your premises are. An assessor will look at the windows, doors, construction of the building and the equipment to ascertain the premises' carbon footprint and using this data will calculate and produce your EPC. This Certificate is valid for 10 years and will, invariably, be required by your solicitor to complete the sale of your business.
---
How much is an EPC?
---
The cost of an EPC usually starts at £129+ VAT for a single Commercial property of up to 50 square meters with an additional charge for any SELF CONTAINED accommodation, if you can get into the accommodation via the business then usually their is no additional fee, please contact us for a free no obligation quotation.
Size Sq Meters

50m2

250m2

500m2

750m2

1000m2

Larger

Residential (6 Beds)

Cost (ex. VAT)

£129.00

£199.00

£249.00

£299.00

£349.00

Please call

£45
TIP: Domestic estate agents often have an in-house EPC supplier who, due to locality, is able to offer a valid EPC at a discounted price.
---